If you believe that a robust, classy timepiece is a core component of your personal style, you're in the right place.
With countless options vying for your attention and hard-earned investment, it's essential to choose wisely. Whether you're seeking a first quality timepiece or hunting for the perfect addition to your collection, navigating the world of mid-range watches can sometimes feel daunting.
Here in this guide, we delve into the best men's watches under $1000. The watches presented not only hit the sweet spot of reliability and affordability but they also possess an inherent style and distinction.
Indeed, our curated list contains high-quality watches from powerhouse brands as well as those from emerging creators who are redefining the industry standards.
Experience the perfect balance of design and functionality with Luca Watches. Let's navigate this fascinating world together.
1: The LUCA CH-1 Chronograph - Luxury at an Unbeatable Price
Navigating the world of luxury watches under $1000 can be a daunting task, but rest assured, there are gems to be found. The LUCA CH-1 Chronograph Collection is one such gem. Retailing at a very reasonable $349.34, it's an absolute steal for a watch of this caliber.
Constructed from surgical grade 316L stainless steel, the CH-1 houses the legendary Miyota movement known for its robustness and accuracy. Its crystal, made of scratch-resistant and anti-reflective sapphire, guarantees pristine clarity and durability.
But it's not just about rugged toughness. The CH-1's sophisticated polished finish ensures you'll look your best whether you're at a business meeting or an outdoor adventure. The dial, with its historical chronograph-inspired design and excellent luminescence, strikes the perfect balance between style and functionality.
LUCA takes customization a notch higher with the CH-1. From Italian leather to NATO canvas styles, and high-grade natural rubber sports bands, you have an array of options to create a look that's uniquely you.
In the LUCA CH-1 Chronograph Collection, you are not just buying a watch; you are investing in a piece of luxury that outperforms its price tag. For those exploring the under $1000 watch market, this should be your go-to choice.
2: Citizen Eco-Drive AT4010-50E Titanium Perpetual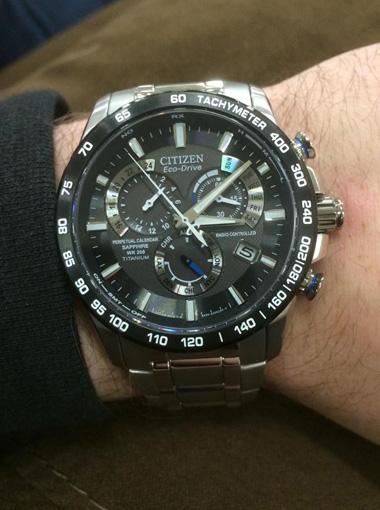 Step up your wrist game with the Citizen Eco-Drive AT4010-50E Titanium Perpetual. Its sleek and stylish design makes it an eye-catcher without being overly flashy.
Not only is it a thing of beauty, it also boasts top-tier energy efficiency. Thanks to Citizen's innovative Eco-Drive technology, this timepiece is powered by light - any light, not just sunlight. So it remains active and accurate even in low-light or dark situations.
The unique Eco-Drive feature is truly a testament to Citizen's commitment to sustainability and cutting-edge technology. With this feature, you won't have to worry about battery replacements.
Priced at under $500, the Citizen Eco-Drive AT4010-50E Titanium Perpetual delivers high-end performance and design at a mid-range price. It doesn't get better than that.
3: Tissot Gentleman Swiss Automatic 
Watch 3 on our list is the Tissot Gentleman Swiss Automatic. Tissot, a renowned brand known for watchmaking excellence, boasts a well-deserved reputation for reliability and precision.
This timepiece features a well-crafted stainless steel body, complete with a scratch-resistant sapphire crystal. This sturdy build ensures long-lasting durability without compromising on elegance.
Its sleek design and clean lines add sophistication to any outfit, effortlessly transitioning from daytime wear to evening events. The silver dial and steel bracelet contribute to its timeless appeal.
At a price point below 1000 dollars, the Tissot Gentleman Swiss Automatic offers the perfect blend of Swiss craftsmanship, appealing aesthetics, and affordability. This watch undoubtedly extends superior value to any discerning gentleman.
4: Movado Museum Classic 
Movado Museum Classic stands out with its minimalist design. Featuring a sleek black dial with a single gold dot at 12 o'clock, it captures the essence of minimalistic sophistication. Movado, a brand renowned for its artistic and innovatively designed timepieces, adds an aura of panache with this model.
Durability is another strong point of this timepiece, having been crafted from stainless steel with a sapphire crystal that provides strong resistance to scratches. Although Movado is indeed a luxury brand, the Museum Classic surprisingly fits under your $1000 budget. It encapsulates elegance, durability, and an unmatched brand reputation, making it an enticing investment for any watch enthusiast.
5: Hamilton Khaki Field Mechanical 
Introducing, the Hamilton Khaki Field Mechanical - the watch that perfectly combines a rugged design with high durability. The robust frame and clear numerical markers make it practical for any outdoor adventure, while its understated style makes it suitable for more formal settings.
Moreover, it stems from a trusted brand with a storied heritage. Hamilton has sported its craftsmanship for more than a century, creating reliable timepieces of high quality.
Plus, estimated to be under $1000, the Hamilton Khaki Field Mechanical brings unbeatable value for its price. In essence, it epitomizes durability, design, brand heritage, and affordable luxury in one package.
A timepiece that suits individuals with an innate sense of style who value quality and functionality, it's more than just a watch. It's an investment and a statement.
6: The LUCA BR-1 Chronograph - Affordability Meets Elegance
In the realm of luxury watches under $1000, the LUCA BR-1 Chronograph Collection emerges as a top contender. With a price tag of just $349.34, the BR-1 is an investment that offers immense value for money.
The watch's 316L surgical grade stainless steel construction testifies to its strength and longevity. It houses the renowned Miyota movement, celebrated worldwide for its precision. The crystal is made of anti-reflective and scratch-resistant sapphire, ensuring that the timepiece maintains its elegant look over time.
The BR-1 sets itself apart with a distinctive brushed finish, lending it a sophisticated air that pairs beautifully with any outfit. Its dial, reminiscent of historical chronographs, is practical and visually pleasing, offering up to nine hours of visibility in complete darkness.
The BR-1 doesn't fall short on customization either. LUCA presents a range of bands, allowing you to match the watch with your style. Options span from Italian leather and NATO canvas to top-grade natural rubber sports bands.
In a nutshell, the LUCA BR-1 Chronograph stands out in the under $1000 watch market for its blend of luxury, durability, and affordability. If you're looking for a premium timepiece without a premium price tag, the BR-1 is an exceptional choice.
6: Longines Conquest Classic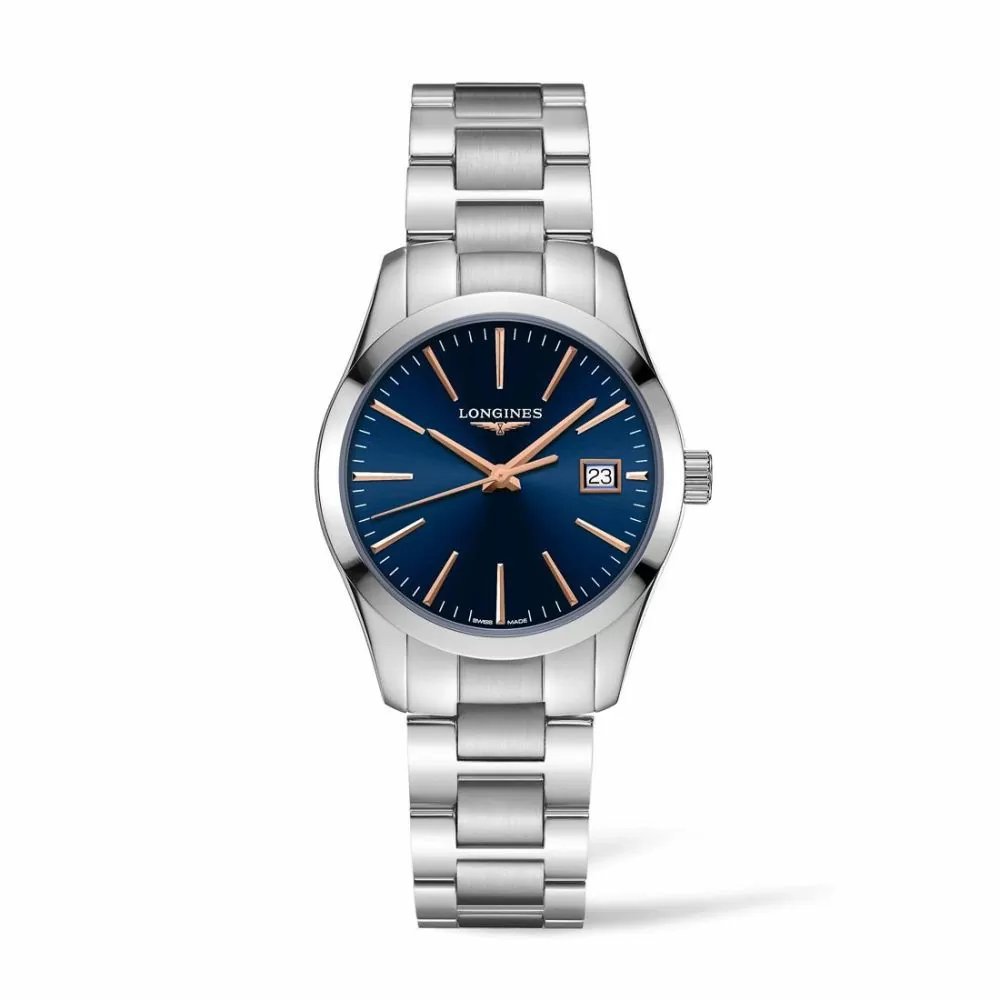 The Longines Conquest Classic boasts a timeless beauty that effortlessly marries elegance and functionality. Its classic, polished aesthetic is instantly recognizable — a testament to Longines's age-old reputation for refined yet durable timepieces.
The Conquest Classic showcases a sleek, stainless-steel bracelet, intelligently fused with a royal silver dial to convey a perfect work-play balance. The precision offered by its automatic movement is unparalleled, reflecting the brand's tireless pursuit of accuracy.
Additional features like the date function and water resistance up to 50 meters add functionality without compromising style. Priced aptly below the $1000 threshold, the Longines Conquest Classic is a fantastic choice, offering exceptional value for money known to be associated with the Longines brand.
Whether it's for a board meeting or a weekend adventure, the Conquest Classic is an accessory that confidently announces itself on the wrist of every discerning gentleman.