When it comes to men's watches, you don't need to spend a fortune to own a sophisticated piece that earns you style points. This shouldn't be surprising, as some brands deliver high-quality timepieces without the luxury price tag.
Our journey into affordable luxury begins here, with our compiled list of best men's watches under $500. These affordable yet stylish watches are designed for every occasion, from the boardroom to the bar, the gym to the great outdoors.
Dive into our handpicked selection to find a style that suits your tastes and your budget. Get ready to enhance your wrist game with these impeccable timepieces, where affordability meets class effortlessly. After all, every man deserves a great watch without breaking the bank.
1 - The LUCA CH-1 Chronograph

If you're on the hunt for a premium timepiece that won't break the bank, I cannot recommend the LUCA CH-1 Chronograph Collection enough. Priced at just $349.34, the CH-1 not only fits your budget but also surpasses expectations in terms of quality, aesthetics, and function.
Constructed from the incredibly durable 316L surgical grade stainless steel, the LUCA CH-1 doesn't compromise on toughness. It comes with the legendary Miyota movement, renowned for reliability and precision, nestled within its sturdy case. An anti-reflective and scratch-resistant sapphire crystal adorns the watch face, ensuring its look remains impeccable with time.
The CH-1 carries a sophisticated polished finish, making it versatile enough to sport in professional settings and casual environments alike. But it isn't just the versatile aesthetic that impressed me. The dial, inspired by historical chronographs, is both practical and strikingly beautiful. It offers excellent luminescence for up to nine hours in total darkness, thanks to LUCA's non-radioactive luminescence technology.
What's more, LUCA offers you the ability to customize your CH-1. With a variety of high-quality bands to choose from, you can add a personal touch that aligns with your style. From Italian leather and NATO canvas styles to sport bands made from the highest grade natural rubber, you have a wealth of options.
To put it succinctly, the LUCA CH-1 Chronograph offers the best of luxury watches at an unbeatable price. It's a testament to the fact that you don't have to spend a fortune to wear a timepiece that combines timeless elegance, functionality, and robustness. Now, isn't that a steal?
2 - Seiko Presage Cocktail Time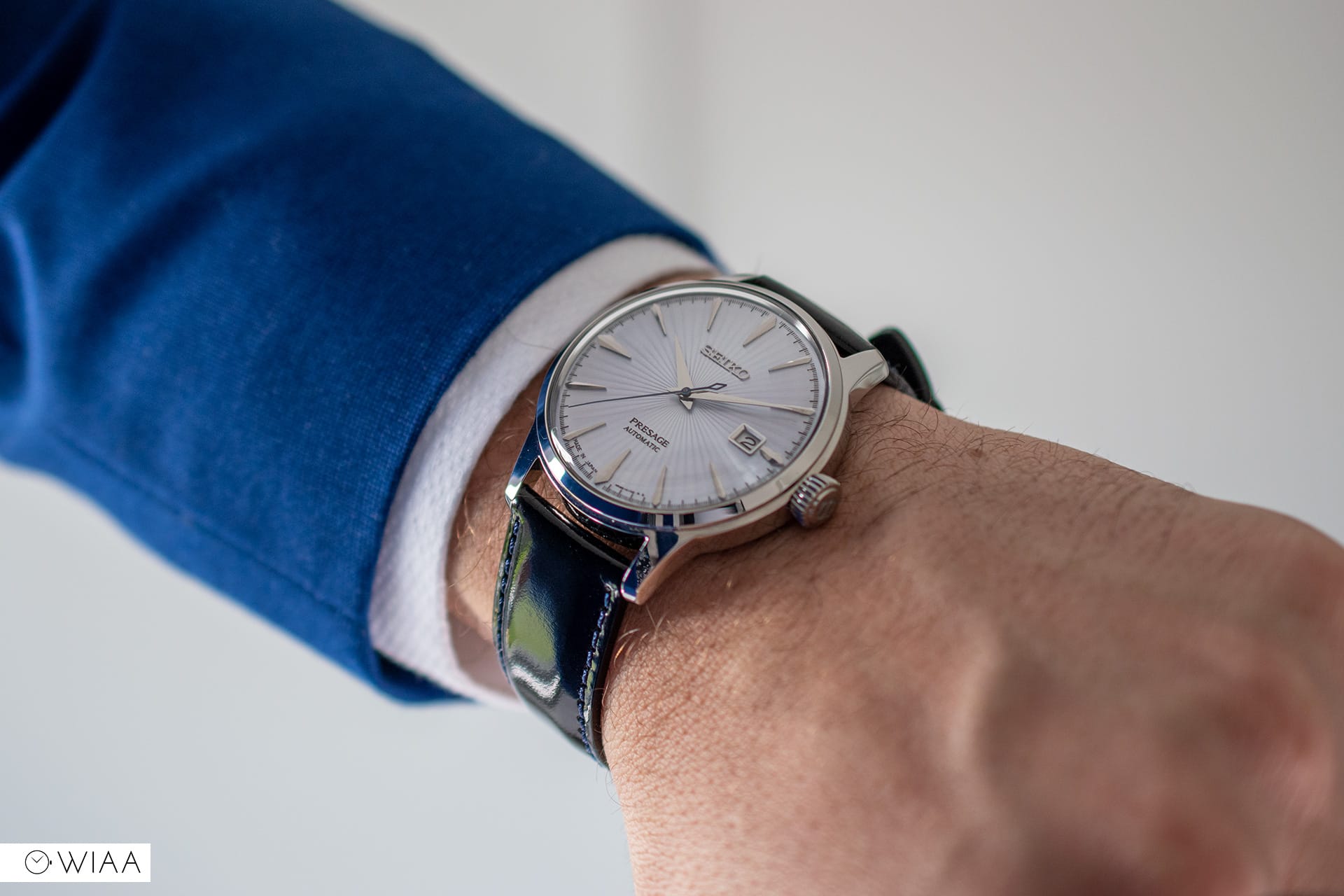 The Seiko Presage Cocktail Time is a must-have for any man with a discerning taste in watches. Its dial is truly a work of art - intricately detailed and painstakingly designed to catch the eye.
As you scrutinize its polished surface, you'll get lost in its mesmerizing depths, creating a stirring sense of charm that the brand Seiko has been renowned for. Your trust in the watch's reliability is grounded in Seiko's standing as a longstanding pillar in the watch industry. The reliability of this timepiece is unquestionable.
The watch emits a retro vibe that calls to mind classic elegance. It exudes a timeless charm that transcends fleeting trends and seasons. Falling comfortably under the $500 mark, the Seiko Presage Cocktail Time proves that style does not have to be synonymous with an unreasonable price tag. End your hunt on a high note by choosing this piece of timeless perfection.
3 - Citizen Eco-Drive Chandler Field Watch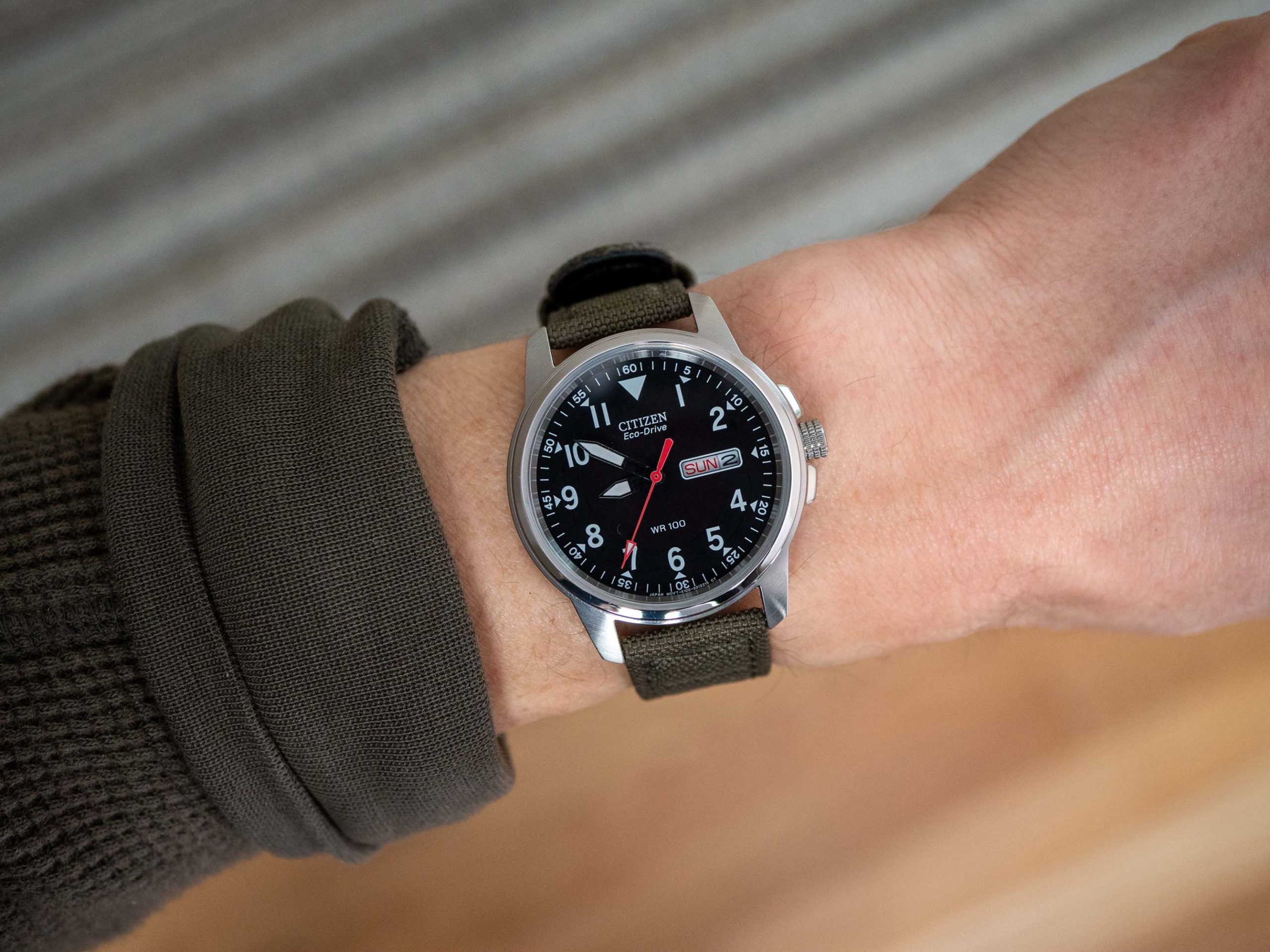 Introducing a watch that is perfect for the stylish man with a taste for the rugged - the Citizen Eco-Drive Chandler Field Watch.
This versatile timepiece wows with its exceptional mix of robust aesthetics and classy designs. The robust silhouette is versatile, suitable for adventure trails, but also suave enough to shine in an office setting.
Whether you're a jetsetter crossing different time zones, or a wilderness explorer hiking through forest trails, this impeccable field watch is built to withstand your active lifestyle.
Beautifully high-tech and elegant, it's powered by Eco-Drive, harnessing both natural and artificial light, and converting it to energy. You don't have to worry about battery replacement!
The Citizen Eco-Drive Chandler Field Watch packs crude strength into sophisticated elegance, without compromising functionality. And incredibly, it's available for under $500. A superb choice for those seeking a watch that effortlessly transitions from the boardroom to the rugged outdoors.
4 - Tissot Gentleman Swissmatic
As a shining exemplar of affordable luxury, the Tissot Gentleman Swissmatic masterfully balances premium features with a budget-friendly price tag.
Strikingly designed, this watch manages to capture attention without appearing ostentatious. The silver stainless steel case paired up with a dark leather strap creates a classy sophisticated look that instantly elevates any outfit.
One of the most salient features of this under $500 watch is its Swissmatic movement, a trait rarely seen in this price bracket. The reliable and accurate automatic movement provides the wearer with a seamless timekeeping experience.
Furthermore, the watch is comfortable to wear all day long, thanks to its lightweight and compact design. The premium yet sturdy leather strap not only adds to the visual appeal but also ensures maximum wearer comfort.
To sum it up, Tissot Gentleman Swissmatic is an impressive blend of luxury and affordability.
5 -The LUCA BR-1 Chronograph: The Under $500 Luxury Watch You've Been Looking For
Every so often, you stumble upon a product that offers astounding quality without carrying a price tag to match. The LUCA BR-1 Chronograph Collection is one such discovery. Retailing at a modest $349.34, the BR-1 epitomizes affordable luxury in the world of watches.
The BR-1, like its sibling CH-1, is built with the utmost attention to material quality and craftsmanship. The core of the watch is composed of 316L surgical grade stainless steel, ensuring incredible durability. This is complemented by the renowned Miyota movement, celebrated for its precision and reliability.
In summary, the LUCA BR-1 Chronograph offers immense value at a reasonable price. It is an embodiment of refined design, exceptional durability, and functionality, making it the perfect choice for anyone seeking a luxury watch without a hefty cost. If you are in the market for an affordable, yet sophisticated timepiece, I highly recommend giving the LUCA BR-1 Chronograph a closer look. You won't be disappointed.